Get Your Trading Pins for the Upcoming Season
Rick Cundiff - May 24, 2019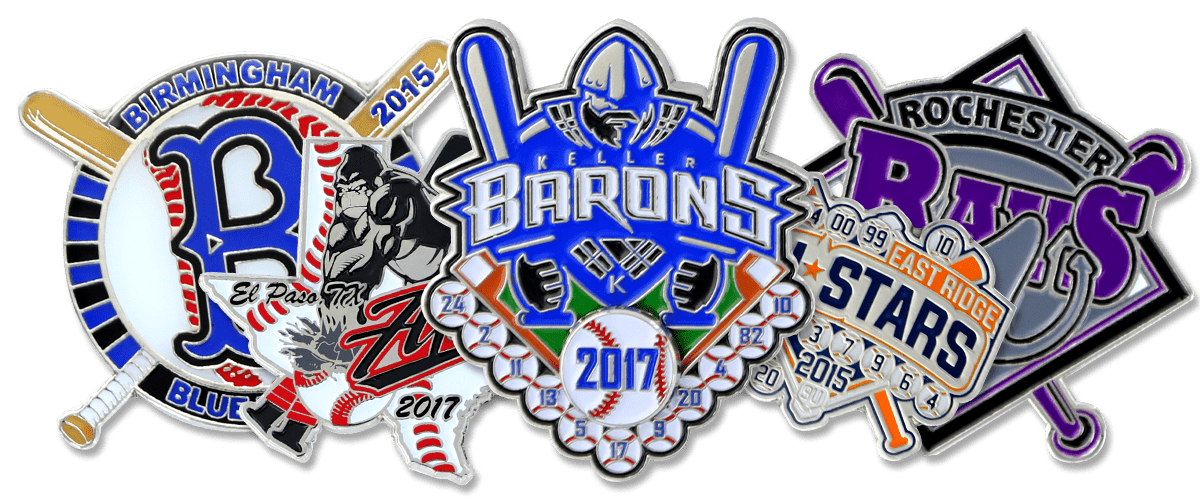 At Trading Pins Direct, we can't stress one aspect of
baseball/softball trading pins
enough:
Order Early!
It's never too soon to get your trading pins for the upcoming season!
Yes, we know it's still winter. But spring training will be here before you know it. Shortly after that, the youth league baseball/softball season will in full swing. You don't want to be the one to have to tell your players they won't have pins to trade at the big game, do you?
It might seem silly to be even thinking about trading pins right now, but trust us on this: Designing – and even ordering – your pins early pays big dividends.


The reason is simple. The longer you wait to order your team's custom trading pins, the longer the wait to receive them will be. Trading pin factories will start to get busy by March, not just with baseball/softball pins, but also with pins for other competitions such as Destination Imagination and Odyssey of the Mind.
By May, baseball and softball pins are really picking up, and by June, every trading pin manufacturing facility in the world is swamped with orders. Pins that might take two weeks to arrive in April could take four weeks – or more – in June or July. How much do you want to risk your team not getting pins on time?


That's not the only reason to order early. If you order before the big rush begins, our super-talented graphic artists will have more time to work with you to create fantastic looking pins that will have a high trading value. Remember, at Trading Pins Direct, we never charge for artwork or revisions, so you can be sure your pins will be exactly what you want.


It's all part of our dedication to giving you the best pins, the best pricing and the best customer service in the industry. That's why we offer free artwork and free shipping to any continental U.S. address. It's why we offer our 100% Satisfaction Guarantee on every single pin we sell. Should you find any trading pin (or other product) you buy from us to be defective in either workmanship or materials, we will replace it at no extra charge to you. That's how we do business.


Still, need another great reason to order sooner rather than later? Well, we've been known to offer Early Bird Specials to customers who order their trading pins early in the season. Ask one of our friendly sales representatives for details.
Of course, no matter when you order, you'll still get the great customer service and creativity you've come to expect from Trading Pins Direct. We will work with you to create the coolest/hottest/sickest (choose your own adjective) trading pins your team has ever seen. We want your players to be excited about their pins, and to know they'll trade well at the tournament.
So what are you waiting for? Call us today toll-free at 866.860.8842, or fill out our no-obligation free quote form. The season will be here soon! Be ready for it with custom baseball or softball trading pins from Trading Pins Direct