Learn More About Our Destination Imagination Trading Pins
Rick Cundiff - May 24, 2019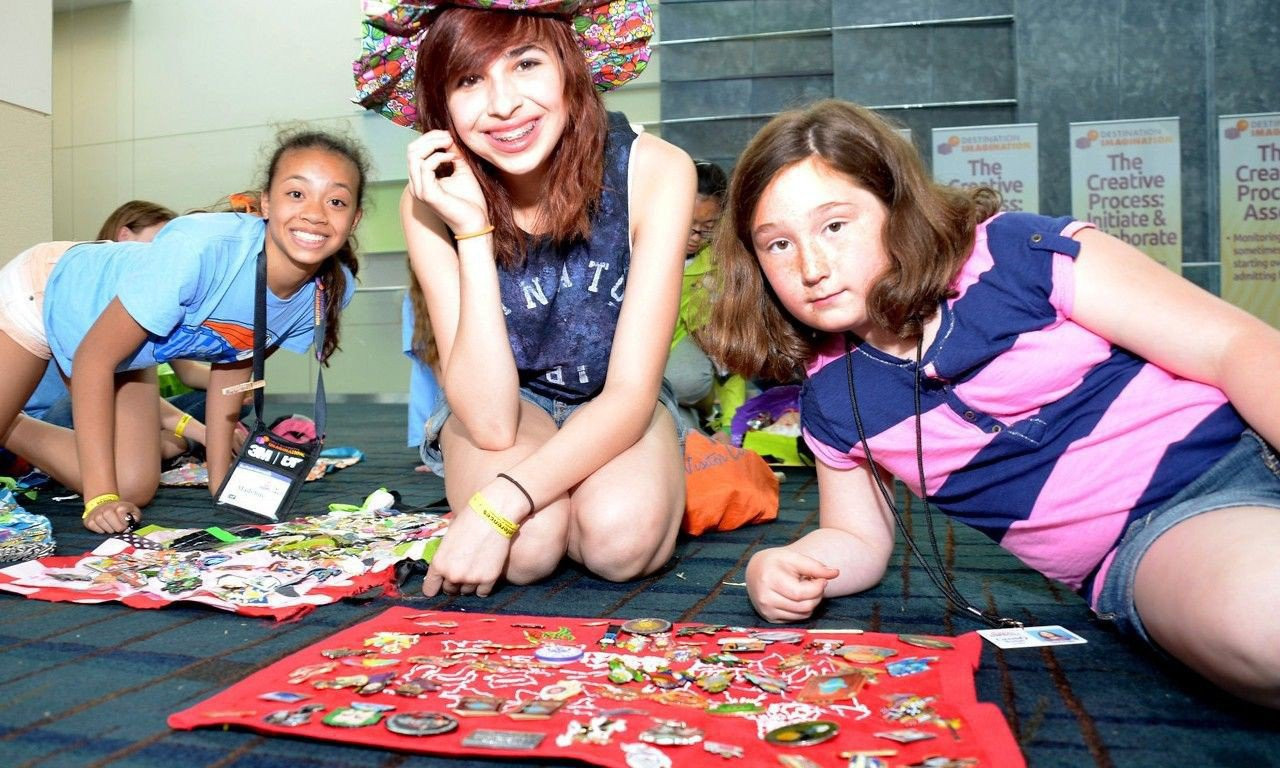 Destination Imagination offers some of the most exciting creative problem-solving challenges of any youth organization. One of the most exciting parts of participating in DI events is pin trading. Custom trading pins are a huge part of regional and state competitions, and especially Global Finals. Everyone knows if you're going to Knoxville, you gotta have trading pins!
The secret to great Destination Imagination trading pins is no secret. It's what powers everything DI – creativity. Use your imagination to design fantastic looking pins that celebrate your team!


How to Start?
That's easy. Get your team together. Have a brainstorming session. Throw out ideas for your design. It could be anything – a unique aspect of your team, a pun, something unique to your school or city, just about anything. Set your imagination free to consider the possibilities.
Once you've got plenty of ideas to work from – and you will have very quickly – narrow them down to the top 3 or 4. Consider the possibilities of each, and debate. Make sure everyone has a chance to be heard. Eventually, with everyone's input, you'll get to a design that captures the essence of your team.
Once you have the basic idea of your design, consider these factors:
Colors – You want bold and bright. The more colors, the merrier.
Size – Do you want your pins to be small and elegant or big and brash? It's possible to have terrific looking pins that trade well either way. The choice is yours!
Shape – A good trading pin provider will be able to create your DI pins in just about any shape you can imagine.
How About Options?
Options add fun and trade value to your pins. Glitter enamel is an economical way to add bright richness and sparkle to your pins. Want to really rock Global Finals? Add miniature LED lights to give your pin mascot glowing or blinking eyes! There are several fun motion add-ons too, that give your trading pins extra play value. Your trading pin supplier can help you choose which options will look best with your design.


Which Style Is Best?
That depends on your design. If your pin design has lots of fine lines and intricate art, you probably want to go with photo-etched pins that can reproduce those well. If you want a traditional design that has the look of fine jewelry, soft enamel is a great, cost-effective way to go. It really depends on your artwork. Your pin provider is the best source to help you decide.


Don't Forget Copyright!
When creating your pin design, it's important to remember a few rules about copyright. It's not hard to do. You just have to be sure your design doesn't infringe on someone else's work. Here are some things to keep in mind:
Do not use other people's material. You can't use anything someone else has copyrighted or trademarked. This includes even parodies of that trademark or copyright.
Neither individuals nor teams may use any DI trademarks. Only DI Affiliates can use DI logos and trademarks.
No one can use Global Finals trademarks or logos on pins or any other commercial item.
That may sound daunting, but it's really pretty easy: Just use your imagination and creativity to create a unique design of your own!
Trading Pins Direct is your Number One source for great Destination Imagination trading pins of all kinds. We've created lots of terrific looking DI pins over the years. We know how to make your pins look their best.


Our graphic artists are the best trading pin artists you can find anywhere. They'll be glad to work with you to craft the best-looking pins you can get. And with our refusal to be undersold, we won't break your team's budget either.
We don't charge you for design, art or revisions, so you can be sure your pins will look exactly the way you want before ordering. We offer a full range of pin styles, sizes, shapes, colors, and options.


We manufacture your trading pins to the highest quality standards. We hand-inspect every pin before we ship it to you, and we back up every pin with our famous 100% Satisfaction Guarantee. In the unlikely event, you find a DI trading pin you purchase from us to be defective in materials or workmanship, all you have to do is let us know. We'll gladly replace it at no extra cost to you. At Trading Pins Direct, we make ordering easy and fast. All you have to do is fill out our no-obligation Free Quote form, or give us a call (toll-free, of course) at 866-860-8842. Or email us at
[email protected]
.