The Key to Trading Fun: Make Your Own Pins!
Blogger - May 20, 2016
Pin Trading Basics -- Make Your Own Pins!
If you want your team involved in the fun of pin trading at the big game, meet or tournament, you need to make your own pins.
Actually, "make your own pins" is a bit of a misnomer. You're far better off letting a company such as TradingPinsDirect.com make your pins for you.
Why? Because you want the best-looking pins with the highest possible trading value at the most affordable price. That's exactly what we have to offer.
Our graphic artists are experienced and well-trained in the art of designing trading pins. Their artistic talent is second to none, and they know what it takes to bring out all the best features of your desired pin design.
Then there's the little matter of manufacturing your design. If you want soft enamel style pins, you need access to a press that applies literally tons of pressure to imprint your design. Then you need the special enamel paint to fill in the colors, and a heat source to set the enamel. In the same vein, photo etched pins require special chemicals and processing. Full color offset printed pins require (obviously) an offset printing press that can print on metal.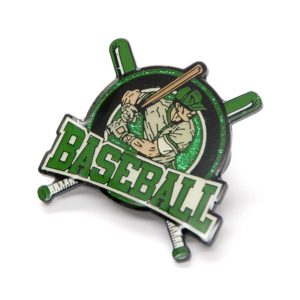 TradingPinsDirect.com uses state of the art production methods for all the pins we produce, no matter which style you choose. We can advise you as to which style will work best for your design. You can find more information about the pin styles we offer
here.
Don't forget options. Add-ons such as glitter enamel, spinners, sliders or bobble heads can really boost the trading value of your team's pins. When the trading gets underway in South Williamsport or Cooperstown, you want your team's pins to be the ones everyone wants. We can make that happen.
Why make your own pins? Because your team wants and needs them! And when TradingPinsDirect.com is your supplier, you can count on having the best pins you can buy, at the best price you can get!