NOW is The Time to Order Custom Trading Pins!
Rick Cundiff - May 24, 2019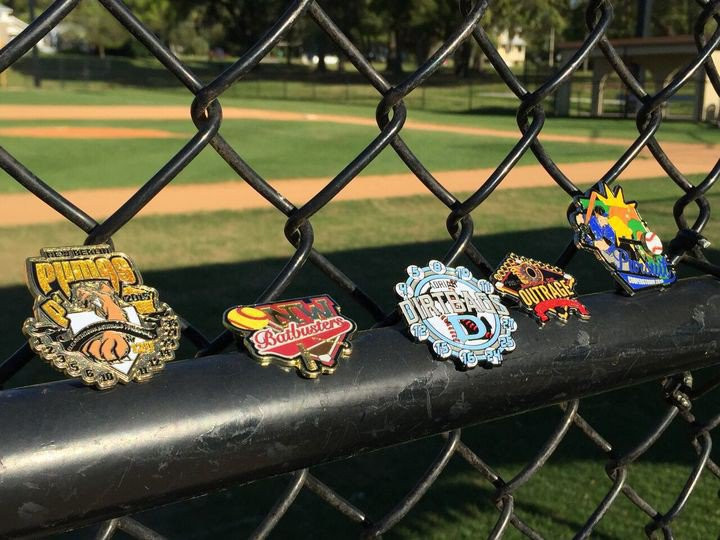 f your youth league baseball team needs custom trading pins for the big game, NOW is the time to order. Don't wait until the tournament is almost here!
Why now, you might ask? The reason is simply one of production capacity. For most of the year, trading pin providers can supply pins fairly quickly, within two weeks or less. But come June 1, once we get into the heart of baseball season, EVERY trading pin manufacturing facility in the world (no, we're not exaggerating) is swamped with orders. In some cases, it can take 3 to 4 weeks to clear the backlog.

So if your team needs trading pins by mid-July or early August, we need to get your order a.s.a.p. to ensure your pins arrive on time for the big game. Don't wait! If you want great looking, great trading, affordable custom trading pins, the time to order is NOW.
Every year, we field request from teams who want custom trading pins but ran out of time. You don't want your players to be disappointed when the trading starts. Order as soon as you can to be sure your pins arrive on time.


While we do not -- and cannot -- offer any guaranteed delivery time during this busy season, Trading Pins Direct will do everything within our power to get your pins to you in time for the big game. We can even have your pins shipped directly to your tournament hotel.
When you order from us, you're not just getting ordinary trading pins. You're getting the best pins you can buy, at the lowest prices you'll find anywhere. Best of all, no matter when you order, you'll get our legendary Trading Pins Direct signature customer service. That includes free art and revisions, no setup fees, and even free shipping to any address within the continental United States.


Our artists work fast, and we'll work with you to make sure your team's pins look exactly the way you want, with the styles, shapes and options that are sure to make your team's custom trading pins the grand slam winner when trading starts. We'll even back our pins with our 100% Satisfaction Guarantee. Should you find any trading pin you buy from us to be defective in either materials or workmanship, let us know. We'll replace it at no extra charge. It's all part of offering you the highest quality pins and the best value in the industry.
We hate to repeat ourselves, but it really is up to you. If your team needs custom pins, contact us as soon as possible. You can fill out our no-obligation Free Quote form, call us toll free at
866.860.8842
, or email us at
[email protected]
. We'll respond fast, and help you create your perfect pin design. We will get your pins delivered to you as fast as possible.
If you do make the tournament late, or otherwise run out of time, don't despair. We do have limited custom optionsavailable for rush shipment. But we'd rather send you the custom trading pins of your dreams. Just let us know – a.s.a.p. – and we'll make that happen